Tag Archives:
news story
By Mike Patterson
Last Updated: 01/07/16 12:32pm
Gennady Golovkin could be on a collision course with Chris Eubank Jr
Gennady Golovkin is willing to come to the United Kingdom to defend his three middleweight world titles against Britain's Chris Eubank Jr, according to his promoter Tom Loeffler.
Eubank Jr's promoter Eddie Hearn has already revealed he expects the fight to be made soon and Loeffler has said the two sides are now "working on finalising details".
"GGG is willing to go to the UK to defend his world titles, and it would be a huge event," Loeffler told the Associated Press. "Hopefully we can get the fight signed."
A fight between Golovkin and Eubank Jr is close to being agreed, according to Eddie Hearn
If the contest is confirmed, it would likely involve Golovkin (35-0-KO32) travelling to England in September to take on Eubank Jr (23-1-KO18), with the venue potentially the O2 Arena.
Eubank Jr moved a step closer to a showdown with Kazakhstani knockout specialist Golovkin by defending his British middleweight title with a commanding
By Isaac Robinson
Last Updated: 28/06/16 7:35pm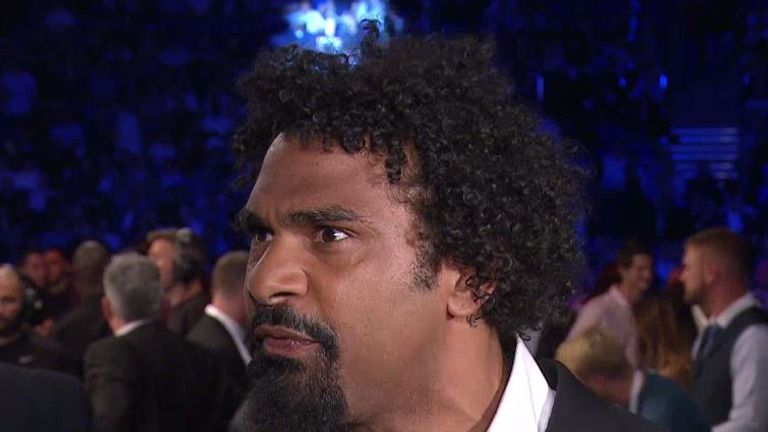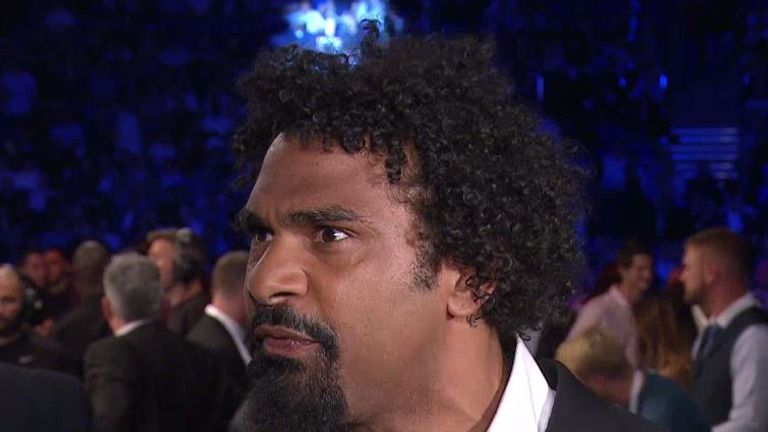 David Haye has some degree of empathy with Tyson Fury
David Haye has fired a thinly-veiled broadside at Tyson Fury after the world heavyweight champion postponed his rematch with Wladimir Klitschko.
The WBA 'Super' and WBO world champion (25-0-KO18) sustained an ankle sprain that prompted the scheduled July 9 bout to be scrapped and the news has left Haye (28-2-KO26) disappointed.
The Londoner, who famously pulled out of facing Fury twice due to injury problems, told Sky Sports: "I know I got a lot of criticism from Fury, but maybe now that he's had an injury he will understand that sometimes there's nothing you can do.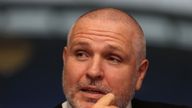 'Just enjoying himself'
Peter Fury on Tyson Fury's presence at Euro 2016
"I had to have an operation on my shoulder which put me out for over a year, and out of the ring for two years. Tyson's done an ankle, but he doesn't seem too injured.
"I saw him dancing around during the Euros, so his injury can't be that bad. I reckon he'll recover quickly and get back on it."
Haye takes no pleasure from Fury's misfortune and hopes to see his heavyweight rival back in action soon.
"It wasn't amusing, I wanted to see the fight," he added.
Haye would welcome a clash against Anthony Joshua
"Tyson's first scheduled bout with Wladimir was called off when Klitschko got injured, and that delayed the fight for a few weeks. So you can't really give Tyson too much stick."
Fury's presence at Euro 2016 in the wake of his injury has been defended by uncle and trainer Peter Fury,
Last Updated: 27/06/16 5:25pm
The entertainment starts when Chris Eubank Jr walks to the ring
As he prepared to close on Gennady Golovkin, Chris Eubank Jr cut a dash with his ringwalk to face Tom Doran on Saturday night.
The Brighton star (23-1-KO18) was in characteristically brutal mood in dispatching the Welshman with a fourth round stoppage and even before the first bell, he was making waves.
His entrance music – Dr Dre's timeless classic 'Still D.R.E' – is becoming familiar to fight fans. The Union Jack he drapes himself in, with his legendary fighting father Chris Eubank on hand always dressed in an eye-catching ensemble, is a recognisable touch.
Chris Eubank Jr says he's ready for Gennady Golovkin
Beyond the visuals, the sounds and the frills, Eubank Jr has plenty of swagger in-built. His purposeful stare and his crowd-milking slow-motion pirouette on the ring apron tell of a fighter with little if any self-doubt.
Will it be enough if and when he faces middleweight king Golovkin? Many have questioned his ability to handle the significant step up in opposition, but he's likely to arrive in style…
Click on the video to relive Eubank Jr's latest spectacular ringwalk…
Visit link: