Daily Archives:
July 21, 2015
Last Updated: 22/07/15 9:47pm
Tyson Fury let loose at the press conference for his world title fight against Wladimir Klitschko, describing the world number one heavyweight as boring
Tyson Fury thinks Wladimir Klitschko is pants!
The British heavyweight challenger was up to his usual amusing antics at their press conference in Dusseldorf.
Klitschko might be ranked the best in the world and own three of the four belts, but Fury was short on compliments and indeed, kept his words… brief!
See what the 'sexy-meister' had to say by watching the video above.
Visit link:
Last Updated: 22/07/15 10:36am
Tyson Fury lets loose at the press conference for his world title shot at Wladimir Klitschko
Tyson Fury has slammed heavyweight kingpin Wladimir Klitschko for having "as much charisma as my underpants" ahead of their world title clash on October 24.
The 26-year-old Mancunian (24-0-KO18) was in playful and then aggressive mood at the first press conference for his showdown with WBO, WBA (super) and IBF champion Klitschko (64-3-KO53) in Dusseldorf – enthralling the German media with some mischievous insults and solemn threats.
Fury said: "Guten aben alles. Ich bin Tyson Fury, der sexymeister from Great Britain!
"I believe he has never faced a challenge like me before and I don't believe he will again. I'm a unique fighter, one of a kind. There's never been someone like me in history – a fighter like me only comes along every 1,000 years."
Then, addressing Klitschko after the world champion had spoken, Fury said: "It's a personal mission for me to rid boxing of a boring person like you. I've just been falling asleep listening to your stupid speech there. I don't hate old men, but listen when being spoken to. You asked the question and I will answer.
"Personal business between you and me. I'm not interested in all the titles and all those belts you've got on there – I'm interested in breaking your face in. That's what I'm interested in.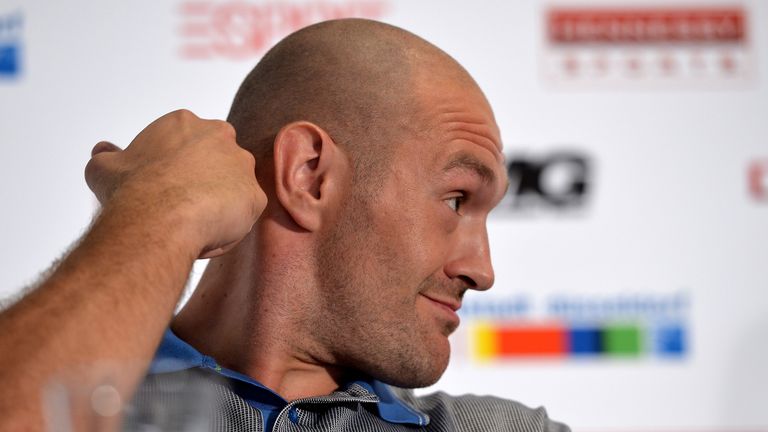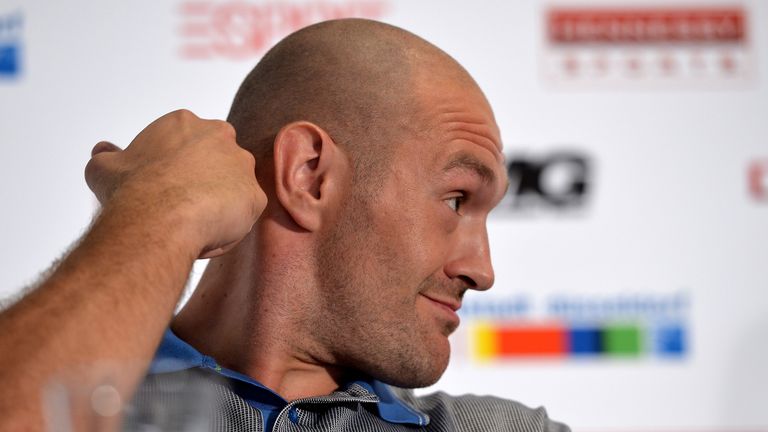 Fury praised Klitschko as 'a great champion'
"You're boring and I want to get you out of the heavyweight division. Your jab and grab style means that surely all of Europe wants to see you get beaten and all of Europe and the rest of the world will see you get beaten.
"You have about as much charisma as my underpants. Zero.
"You're not even a heavyweight. The first time I actually met you face to face was in your training camp in Austria in 2010. I expected a great guy, a great champion and what did I find? A man with a pair of boxing gloves on throwing jabs and one-twos. The same thing over and over again.
"I went away from that training camp with pure confidence. You're nothing. Remember that. You are nothing and you are getting knocked out."
Klitschko, who is planning to fight again five more times despite being less than a month from his 40th birthday, believes Fury's antics will be increasingly bizarre as the fight draws closer.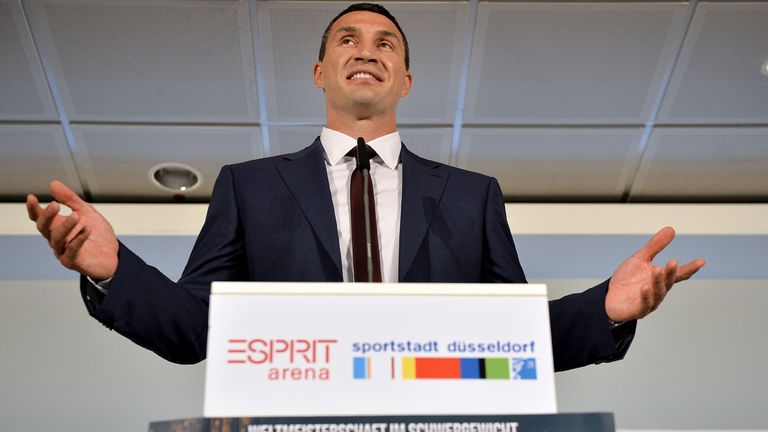 Is this it? He didn't throw the table? He didn't throw a microphone somewhere? His shoe?
Wladimir Klitschko
The Ukrainian said: "I believe Tyson Fury is really meaning what he's talking about. He's definitely not coming here on October 24 to be present and on the canvas. No, he's here to win the championship.
"I think that this fight is going to create a lot of attention. I think it's going to build up in portions and become more entertaining, because I was a little bit disappointed.
Chaos Reigns Supreme.
One night after "The Demon of Death Valley" made his presence felt with a shocking return at Battleground, the 1157th edition of WWE Monday Night RAW came to you, live, from the Sprint Center in Kansas City, MO. During the WWE World Heavyweight Title match between Seth Rollins and Brock Lesnar at last night's Battleground, "The Beast" had matters well in hand after taking champion Seth Rollins to "Suplex City" with a torrent of thirteen suplexes and dropping Rollins with the F-5, but when Brock went for the pin, the lights would go out in the arena and a gong would sound, signifying the return of The Undertaker! "The Phenom" would then appear in the ring before a stunned Brock Lesnar and, with rage in his eyes, The Undertaker would plant "The Beast" with a chokeslam before drilling Brock Lesnar in the middle of the ring with back-to-back Tombstone Piledrivers! "The Deadman" then left the ring, leaving a cascade of questions in his wake. Why did The Undertaker target Brock Lesnar for his return? Was "The Phenom" seeking vengeance for Brock Lesnar ending his undefeated WrestleMania streak last year? With rumors suggesting that The Undertaker may kick off RAW, will "The Deadman" offer an explanation for his actions? How will Brock Lesnar react to The Undertaker costing him the WWE World Heavyweight Championship?
Battleground also saw the rubber match between United States Champion John Cena and Kevin Owens as the two waged war over the United States Championship in what was another classic match in their rivalry. While both champion and challenger gave it their absolute all in the championship match, it was John Cena who was able to survive as the United States Champion, locking Kevin Owens in the STF and forcing his challenger to tap out to successfully retain the title. After a trifecta of unforgettable match between these two, the question remains, what is next for John Cena and the United States Championship? Who will be the next Superstar to step up and challenge Cena for the prestigious title? Since arriving on the scene a couple of months ago, Kevin Owens' sole focus has been John Cena, but now that their rivalry appears to be over, where does Kevin Owens go from here?
Match Results
Charlotte (with Paige & Becky Lynch) def. Brie Bella (with Nikki Bella & Alicia Fox) by submission to the Figure Eight.
Non-Title: Los Matadores (with El Torito & The New Day) def. The Prime Time Players by Diego pinning Titus O'Neil following the Back Stabber.
Big Show def. The Miz by pin following an elbow drop off of the second rope.
Roman Reigns (with Dean Ambrose) def. Luke Harper (with Bray Wyatt) by DQ after Bray Wyatt interferes.
Naomi & Sasha Banks (with Tamina) def. Paige & Becky Lynch (with Charlotte) by Paige tapping out to Sasha Banks' Bank Statement.
6-Man Tag: John Cena, Cesaro, & Randy Orton (with Lana) def. Kevin Owens, Rusev, & Sheamus (with Summer Rae) by Randy Orton pinning Rusev following the RKO.
See page 2 for detailed results.
Follow this link: