Daily Archives:
July 3, 2015
Last Updated: 03/07/15 5:31pm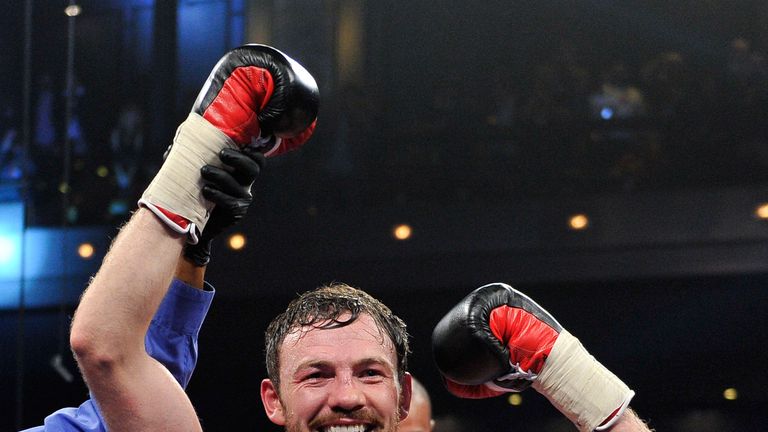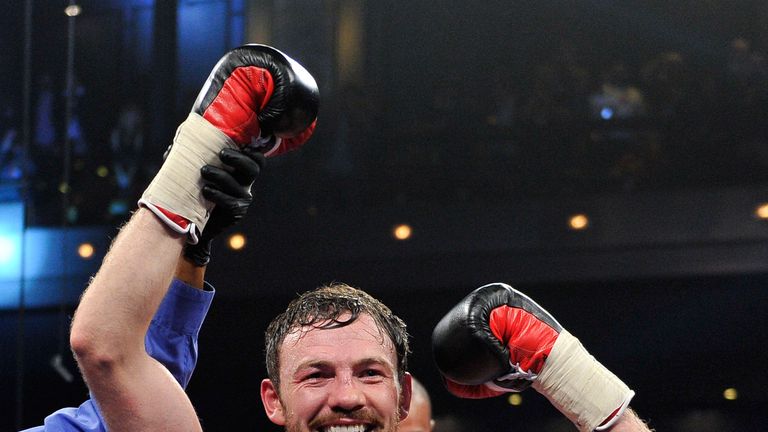 Andy Lee: Full of confidence ahead of Saunders fight
WBO world middleweight champion Andy Lee is confident of stopping unbeaten challenger Billy Joe Saunders inside five rounds on September 19.
The Irishman fights in front of his home fans at Thomond Park, Limerick, and has no doubts he will dispatch the Englishman before moving on to attempt to avenge a loss to Julio Cesar Chavez Jr and his recent draw with Peter Quillin.
Lee told Boxing News: "Everything he can do, I can do to a better standard and I also have the power. He might win one or two early rounds but by the fourth or fifth, I'll find the punch to end the fight.
"Saunders is very talented, highly skilled but fiercely competitive as well. I was impressed that against Chris Eubank Jr he went straight to work. He didn't allow Eubank to settle and that showed his experience.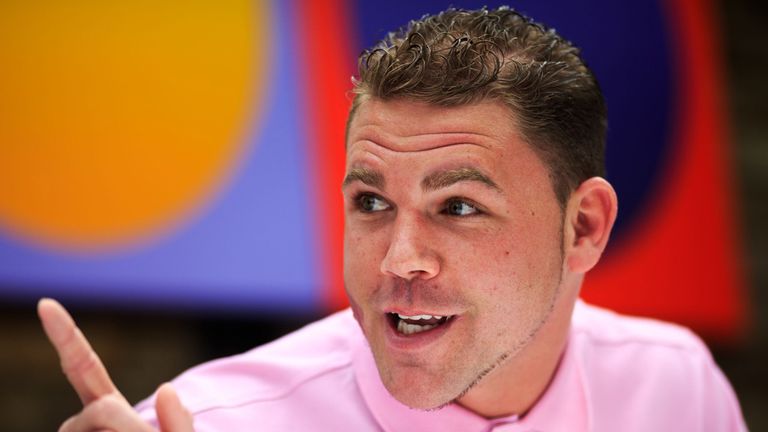 Saunders' biggest strength is his hunger, that personal pride. He can't allow himself to be beaten. But that will only take you so far.
Andy Lee
"It was always going to be tough down the stretch because Eubank is so well conditioned. Saunders' biggest strength is his hunger, that personal pride. He can't allow himself to be beaten. But that will only take you so far. I'm the better fighter all-round.
"I've got to beat Saunders. He's my mandatory challenger, but after that, it frees me up. I wouldn't mind a rematch with Quillin – we have unfinished business – and it's also important for me to avenge my 2012 loss to Julio Cesar Chavez Jr.
"Gennady Golovkin is a possible fight next year."
Lee, 31, won the title
Last Updated: 03/07/15 4:40pm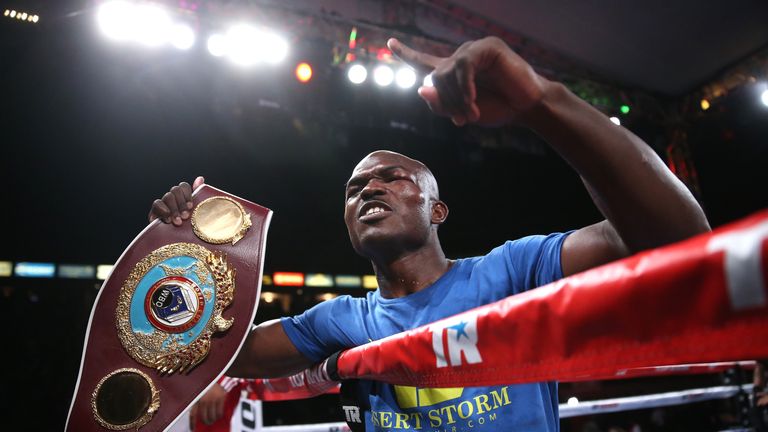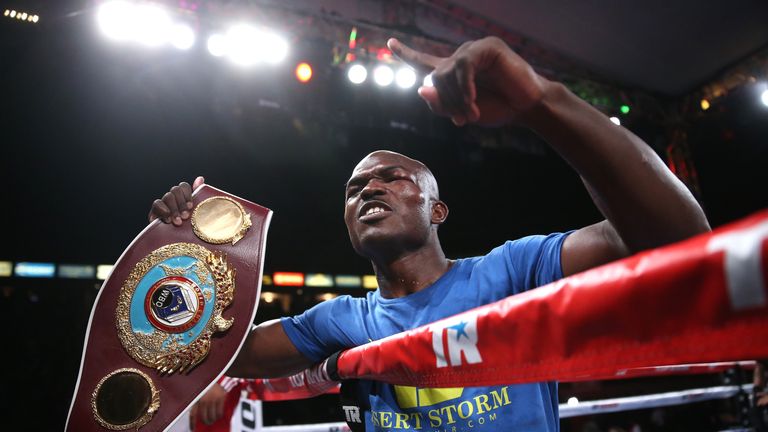 Timothy Bradley: Open to stepping up in weight
Timothy Bradley would be happy to step up in weight to fight the winner of Miguel Cotto v Saul Alvarez.
The 31-year-old American is a former light-welterweight and welterweight world champion but having beaten Jessie Vargas in controversial circumstances on June 27 to take the interim WBO welterweight crown, is considering big-money fights in higher divisions.
In 2014, Bradley opened up the possibility of facing WBC middleweight champion Cotto at 154.5lbs only to see the plans fall through when the Puerto Rican changed promoters but now, with Cotto lining up 'Canelo' for a super-fight later this year, Bradley may be lying in wait.
Bradley (32-1-1-KO12) said in an interview reported on boxingscene.com: "I have no problem at all [going up to 154]. At 154, I'll be even stronger. Anything is possible. I can go to 154 or I can stay at 147.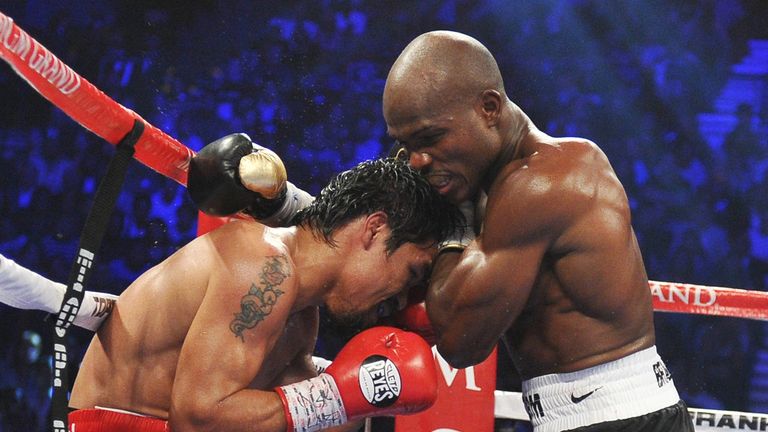 I want to fight the best fighters available. 154 is a feasible weight for me. I walk around at 165, 170, 175. I can even get to 185. Look at my pops and how big he is!
Timothy Bradley
"Anything is possible and I will fight anybody. I would love to see how good I can be.
"I want to fight the best fighters available. 154 is a feasible weight for me. I walk around at 165, 170, 175. I can even get to 185. Look at my pops and how big he is!
"I can go up and bring my skill. I can do it anytime they want to do it. I'm willing to face the best but all of these guys have to be willing to fight me."
Bradley's only career defeat came in April 2014 when he lost a unanimous decision to Manny Pacquiao, who he had beaten via split decision two years previously.
Excerpt from:
Last Updated: 03/07/15 5:39pm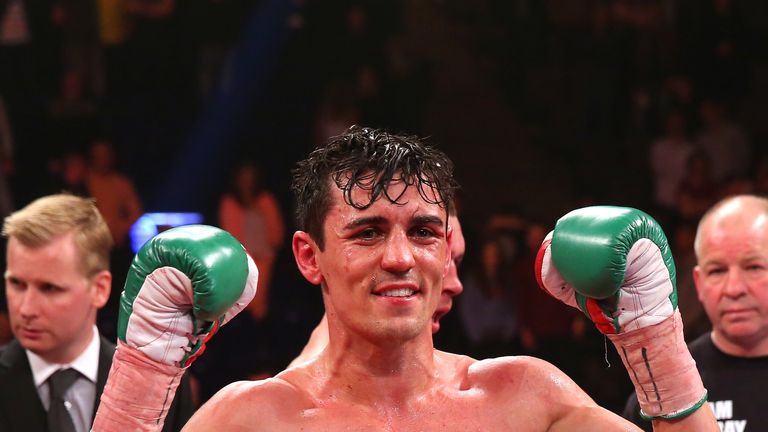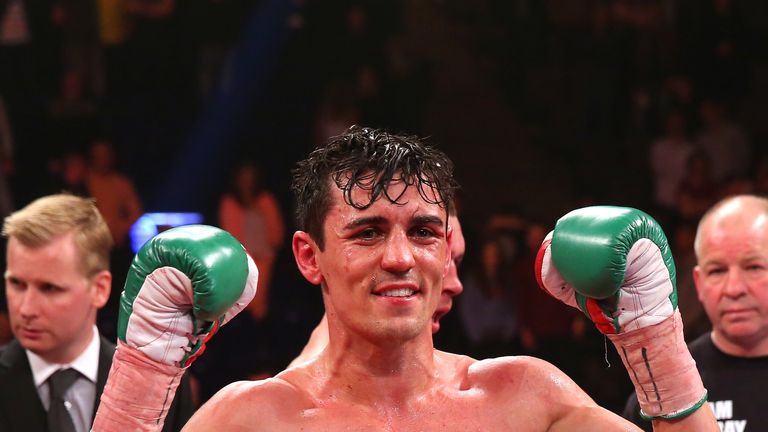 Anthony Crolla: Remarkable recovery for world title bid
Anthony Crolla takes on WBA world lightweight champion Darleys Perez on July 18 less than eight months after suffering serious injuries. Here, he lifts the lid on the secrets of a miraculous recovery.
The popular 28-year-old sustained a fractured skull and a broken ankle when confronting burglars near his home in December – but he's all smiles now and determined to fulfill a life-long dream when he fights the classy Colombian Perez
Last Updated: 03/07/15 2:47pm
Keith Thurman: Wants straightforward answer from Floyd
WBA welterweight champion Keith Thurman has demanded an answer from 'Super' champion Floyd Mayweather Jr over their potential match-up.
The 26-year-old Thurman (25-0-0-KO21) has made no secret of his desire to face divisional kingpin Mayweather, who some believe will attempt to make it to a flawless 50-fight career by fighting twice more.
Although the 38-year-old has already named Karim Mayfield and Andre Berto as his most likely opponents, Thurman is seen by many as a more viable option – along with British fighters Kell Brook and Amir Khan.
Thurman, who defends his world title against Luis Collazo on July 12, shares a business associate with Mayweather Jr in Al Haymon but is still sceptical over the chances of the fight being made.
When asked by
Last Updated: 03/07/15 12:35pm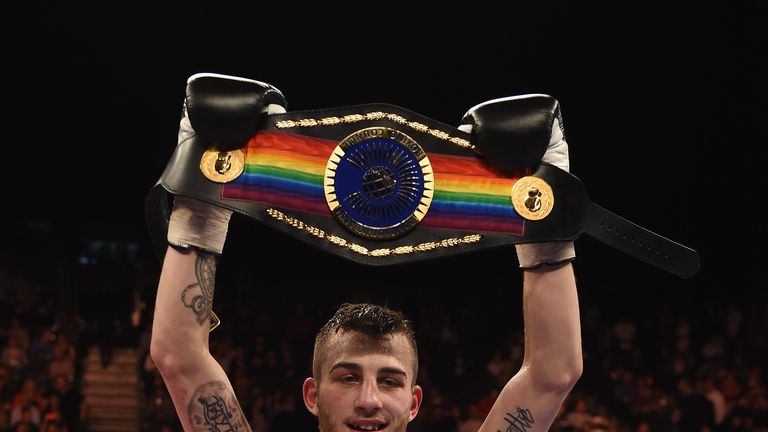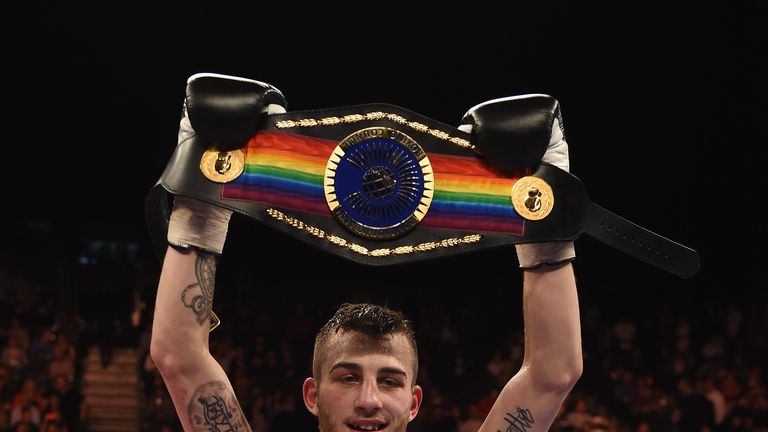 Sam Eggington: Looking forward to facing off with Glenn Foot
Commonwealth welterweight champion Sam Eggington is looking forward to meeting Glenn Foot head on when they clash in Manchester on July 18 – live on Sky Sports.
With the vacant British title also on the line, 21-year-old Eggington (15-2-0-KO9) faces the unbeaten Foot, 27, on the undercard of Scott Quigg v Kiko Martinez – and the Stourbridge man is predicting fireworks.
Eggington said: "Glenn is strong, he comes forward and he likes a fight so it should be a real tear-up – I can't wait.
"I've put all the work in so I can go 12 rounds – whether he's chasing me and or I'm chasing him, it's going to catch fire at some point.
"Something we've been working on in particular with this camp is to keep my power throughout the fight. Unlike most punchers – who go for the kill early, I've stopped my last few mid-to-late. Denton Vassell was round eight, Singleton was the fifth and Lamptey was in the seventh, so the proof is there.
"I've incorporated some swimming in this camp, wanted to mix it up with my training. As hard as swimming is – it's really good for your stamina and conditioning, definitely noticed an improvement there in sparring. This camp has consisted mainly of that, running and my usual strength and conditioning."
On another big night of Sky Sports boxing, Quigg defends his world title against Martinez, Anthony Crolla bids to take Darleys Perez's WBA lightweight belt and former world middleweight
Last Updated: 03/07/15 2:30pm
Conor McGregor: Open to boxing Floyd Mayweather Jr
UFC fighter Conor McGregor is prepared to face undefeated world champion Floyd Mayweather Jr in a boxing ring.
The Irishman is readying himself to face Chad Mendes for the interim featherweight title at UFC 189 later this month and is still involved in a war-of-words with champion Jose Aldo, who pulled out of their planned clash due to injury.
That didn't stop McGregor, 26, throwing his hat in to the ring for a potential boxing bout with Mayweather at some point in the future.
In an interview reported on Fox Sports, McGregor said: "If you're asking would I like to fight Floyd Mayweather… I mean, who would not like to dance around the ring for $180 million?
"I certainly know he would not want to step into my world. The world of pure unarmed combat where there's no limitations, but I most certainly would step into his world. I would certainly box him if the opportunity arose. Most certainly.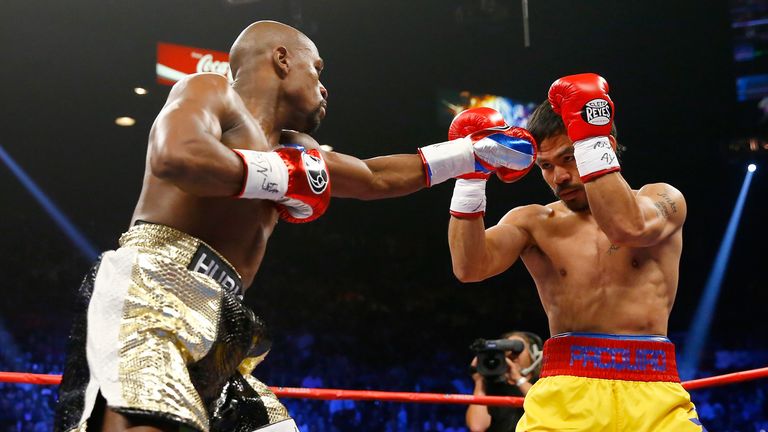 After the Manny fight happened, there's no more real draws. If you're looking for a fight that would generate interest, it must be a cross and match up different styles.
Conor McGregor
"There's no real fight in boxing left for Floyd anyways. After the Manny [Pacquiao] fight happened, there's no more real draws. If you're looking for a fight that would generate interest, it must be a cross and match up different styles."
On the possibility of Mayweather attempting martial arts, McGregor added: "I've said it before, I don't think boxing is the style of fighting that can beat Floyd but saying that there are many, many forms of fighting that can beat him.
"If we were to get it on, I would most certainly dismantle him, also."
Mayweather is yet to name his next opponent but has named Karim Mayfield and Andre Berto as possibilities while the likes of Kell Brook, Keith Thurman and Amir Khan are also keen to face the 38-year-old American.
Source:
Measure of Revenge.
The 828th edition of WWE Thursday Night SmackDown came to you from the Giant Center in Hershey, PA. In the last couple of weeks, WWE World Heavyweight Champion Seth Rollins and the reunited Authority have successfully beat down "The Beast" Brock Lesnar, Dean Ambrose, and Roman Reigns, effectively standing dominant and unified over the three biggest threats to Rollins' reign as WWE World Heavyweight Champion. With just over two weeks to go before Seth Rollins defends the WWE World Heavyweight Championship against Brock Lesnar at Battleground, the self-proclaimed "future of WWE" will kick off SmackDown with Director of Operations Kane and J&J Security in tow. What will The Authority have to say about their destruction of Dean Ambrose and Roman Reigns this past Monday night on RAW?
Also on SmackDown, before he defends the Intercontinental Championship against Big Show and The Miz in a Triple Threat Match at Battleground, Ryback would be in action on SmackDown as the Intercontinental Champion would go one-on-one with "The World's Strongest Man" Mark Henry in a non-title match. Can "The Big Guy" overcome "The World's Strongest Man" in a titanic collision? Will either Big Show or The Miz be on SmackDown to try and make a statement at the expense of Ryback?
Match Results
Bray Wyatt def. Dean Ambrose by pin following Sister Abigail.
R-Truth def. Adam Rose (with Rosa Mendes) by pin following the Lie Detector.
Non-Title: Ryback def. Mark Henry by pin following Shell Shocked.
Brie Bella (with Alicia Fox) def. Naomi by pin following the Bella Buster.
Non-Title: The Prime Time Players def. The Ascension by Titus O'Neil pinning Konnor following the Clash of the Titus.
Non-Title: Roman Reigns def. Seth Rollins (with J&J Security) by DQ after J&J Security interfere.
See page 2 for detailed results.
Continue at source: