Daily Archives:
July 27, 2014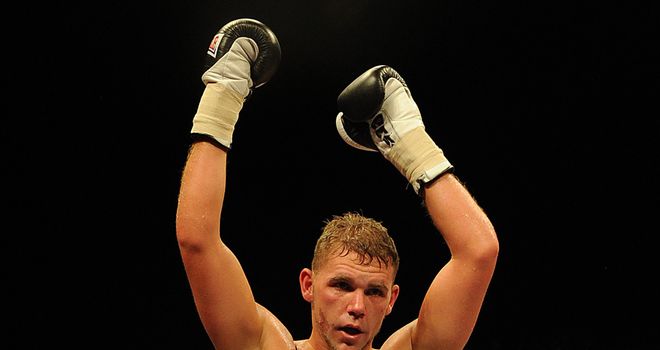 Billy Joe Saunders: Has Chris Eubank Jr in his sights
Billy Joe Saunders has admitted he would be happy to put his world title quest on hold to settle a score with rival Chris Eubank Jr.
The 24-year-old Saunders, returning from a 10-month injury lay-off, claimed the European middleweight title with an eighth-round stoppage of unbeaten Emanuele Blandamura in Manchester on Saturday night.
Eubank Jr may have extended his unbeaten record to 17-0 on the undercard with a first-round stoppage of Croatian Ivan Jukic, but Saunders was far from impressed.
"I'm ready to fight at world level now," he said. "I'm not saying I'm ready to beat Miguel Cotto (WBC champion) or Gennady Golovkin (WBA), but I could go up against Sam Soliman (IBF) now.
"Eubank was on Twitter the other day slagging me off and going on. I should just tell him to get in the queue but I'm a proud man and he can't say he's going to knock me out and then go out and knock out a bum in one round (Jukic).
"We're the same age, we've had more or less the same number of fights. But I hold all these belts and he holds a bottle of water in his hands when he leaves the ring.
"My team are right when they say Eubank's name shouldn't be mentioned in the same sentence as mine because I'm in a different class to him. But if he's man enough to say he can knock me out then let him try and do it. Not a problem."
Saunders' bout was at the top of a bill originally headlined by the heavyweight scrap between Dereck Chisora and Tyson Fury, which was cancelled after Fury's uncle and former trainer Hughie fell seriously ill.
Read More –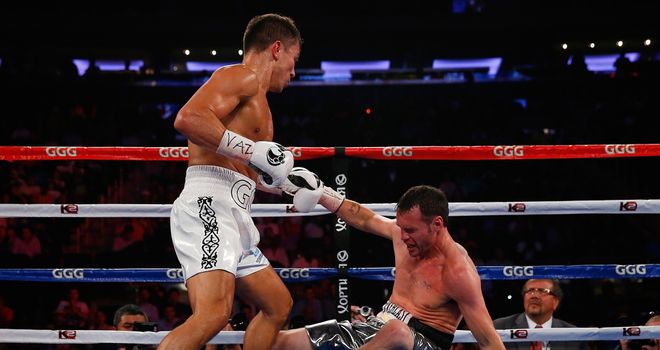 Gennady Golovkin puts down Daniel Geale in the third round
Gennady Golovkin stopped Australian Daniel Geale in three rounds at Madison Square Garden to retain his WBA world middleweight title.
The unbeaten champion from Kazakhstan put Geale down in the second round with a flurry of blows.
In round three he responded to a hard right to the head from the challenger with his own punishing right to the nose, followed by a quick left that sent Geale down for a second time.